Message from Current Students

Message from Current Students

Battur Purevdorj (Mongolia, 2021-2022)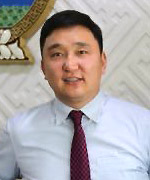 First and foremost, I would like to express my sincere gratitude to the World Customs Organization (WCO), Government of Japan, and Aoyama Gakuin University (AGU) and Mongolian Customs who are giving me this tremendous opportunity to join the Strategic Management and Intellectual Property Rights Program (SMIPRP). This Program is enhancing and greatly completing what I know about different subjects we deal at the Mongolian Customs like customs administration, customs law, tariff declining and intellectual property, but beyond these subjects, I consider that for me, it is a big opportunity to learn and understand how management approaches and tools can be applied in the public sector like customs. For that, I am studying with great attention and pleasure the subjects like management theory, competitive strategy, organizational and innovation management. In my case, it was a surprising thing to learn how modern management tools/ instruments can be applied in my day-to-day real life. On top of that my intention is to diversify my thinking, and then have the ability to contribute to the current Intellectual Property Rights problems that we are facing all over the world. It is undeniable that the AGU is the best place to find a solution with strategic management and forceful logic for those problems, and allowing practical opportunity to brainstorm with Customs colleagues from all over the world.
I believe that we are the pioneers to study during the COVID-19 pandemic period being far away from each other: But knowing that our AGU's excellent professor and school staff are here during this tough time, ready to support us in any way they can. All the time they encourage us to reach out, allowing the current students to participate in different virtual engagement opportunities, deliver academic knowledge, and continue to stay connected at any time. As we all know, switching from in-person learning to online learning is not easy, especially during this period. But meanwhile, AGU is able to provide the best experience possible, without losing the personal touch that means so much to 2021-2022 fellow students. I would like to bow down to the AGU professors and staff who continue their vision of personal attention and academic excellence. All the efforts our professors are making for us will be worth it and be paid by the customs officers around the world whose knowledge and experience will undoubtedly contribute to the improved and more efficient operation of our big family which is "world customs".
Therefore, I am grateful for the opportunities Strategic Management and Intellectual Property Rights Program is offering me. I am expressing my sincere thanks to the Aoyama Gakuin University and my professors for encouraging and supporting me for the adventure which is continuous improvement of customs practices.
---
Ami Caeli Ndula (Cameroon, 2021-2022)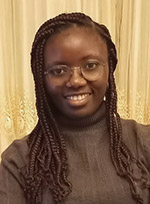 Opportunity, they say, comes but once in any area of our lives and when this comes, grab it lest it slips from your hands. This is how I grabbed the opportunity to be part of this prestigious program offered at one of the outstanding universities in Japan, Aoyama Gakuin University.
I am immensely indebted to the World Customs Organisation, Japan Government, and Aoyama Gakuin University, as well as my administration – Cameroon Customs – which nominated me to take part in this program.
When I was nominated to participate, it was like a dream, almost realised and when SMIPRP confirmed my selection, only then did I realise it was a dream come true for me to pursue my studies in Japan. SMIPRP and AGU gave my classmates and me a lifetime opportunity of studying in Japan as they forged ahead with this year's program in spite of the Covid-19 pandemic. Hence, due to travel restrictions, we started attending classes virtually through platforms such as Zoom and WebEx in our home countries. Thanks to these online classes, we not only started our program of study on time, but by the time we arrived in Japan and met in person for the first time, my classmates and I had already forged deep friendships.
SMIPRP office has the greatest staff who have been of immense service to us in every aspect. They are constantly available, sympathetic, and eager to assist students administratively. One thing I appreciate most about them is their capacity to maintain constant email communication network. During this period, the staff gave us frequent updates on the Covid-19 situation in Japan and supported us in every means they could to boost our spirits.
SMIPRP is a capacity building course which is very appropriate for Customs officers seeking to advance their career. The Program has the best curriculum any customs officer would wish for; it consists of lectures, individual thesis supervision, practicum, and field trips.
For example, this program has improved my management skills as lecturers give us case studies to analyse and bring up possible solutions, preparing us as future managers of customs.
In addition to traditional academic courses centred on Strategic Management, SMIPRP equips participants with knowledge on Intellectual Property Rights (IPR) which is not readily available in developing countries. After successfully completing this program, many will be in a better position to assist their respective organisations to set up IPR offices.
Courses offered by lecturers visiting from Japan Customs administration broadens our scope of knowledge in Customs' main functions of trade facilitation, revenue collection, and national security.
The cultural diversity (students from 10 different countries) makes this program so special as students share their experiences and views during classes, especially during customs administration courses.
I cannot end this article without extending my appreciation to SMIPRP, AGU and Ministry of Finance, Japan, for making it possible to study in Japan despite the challenges created by the ongoing pandemic.
---
Winfred Kinya Kinyua (Kenya, 2021-2022)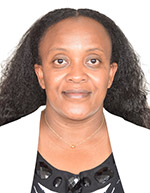 When I applied for the Strategic Management in Intellectual Property Rights Program, I didn't want to be too hopeful about my application being accepted because I knew how globally competitive the program slots were. I remember, just as if it was yesterday, how overwhelmed with joy I was when I received the news of my acceptance to the program. The SMIPRP course has been by far the most dynamic, practical and intellectually stimulating course I have taken, and I feel more confident and competent to pursue my life and career goals thanks to the competencies that I have learned through this course.
Indeed, none of this would have been possible without the relentless support and dedication from World Customs Organization (WCO), The Government of Japan and Aoyama Gakuin University (AGU). I would like to extend my deepest gratitude to the faculty, organizations and teams that facilitated this program.
Unique to the 2021-2022 cohort was the fact that we began the first semester, April – August and part of the second semester, September – mid-October from our respective countries. As the Kenyan Cabinet Secretary for Health once said, "If we continue behaving normally, COVID-19 will treat us abnormally." This statement is a stark reminder that the world has changed and the only way to survive is to re-invent new norms. As such, online classes became the new norm. This was not without its unique challenges; I remember the unwavering determination from several of my classmates who braved classes as early as 0300 hours; for one classmate, all class times were better understood as a 'night shift. Despite these challenges, the anticipation of eventually travelling to Japan to experience Japanese culture and complete our studies became a real motivator to stay on course.
The SMIPRP is a carefully tailored program of study aimed at delivering effective and all rounded future leaders working at Customs Administrations in developing countries. The academic journey seamlessly harmonizes the coursework and culminates with writing a thesis, which instills rational and practical skills to students. The program also provides first-hand experience through forums where invited guests from WCO, Japan Customs and the Private Sector enrich our understanding of the critical role played by Customs globally.
Completing this program gives me the confidence to be a better decision maker at work; I especially like the advice of our professors who encourage us to become "more sophisticated consumers of management theory with a view to using good theory to make better managerial decisions in a rapidly changing and uncertain world." I leave this program having interacted with amazing classmates - representing diverse cultures yet unified by our professions - and a dedicated faculty and administrative team at AGU. I hope to maintain these valuable contacts for possible future collaborations. The program further opens avenues for future career growth at WCO as reiterated by a WCO representative. It is therefore with heartfelt appreciation that I yet again acknowledge WCO, Government of Japan, and AGU's Graduate School of Business for making my dream a reality.
In conclusion, I highly recommend this program to future prospective applicants who look to nurture their Customs Careers and becoming impactful transformational leaders.